Hello!!! Christmas and New Year is coming..Everybody will be busy shopping for their beloved friends and family too. Many people will be going off for year holidays too. Well for those who wants to stand a chance to win pair of FREE ticket to Koh Samui , Bandung or Cambodia....here are your chance...
Lazada is giving away 3 pairs of Flight tickets to the top 3 Spender during their Online Revolution launches with a day of mega sales on
11 November 2014. Which is???? TODAY!!!!!
Today will be the biggest sale of the year in Southeast Asia, set to rival Black Friday, Cyber Monday and Singles day.
Visit Lazada.com.my today, 11 November 2014 from 11am - 11pm to enjoy up to
82% off on a flash sale
which will be happening every hourly on promoted products.
Let us shop at Lazada today!!!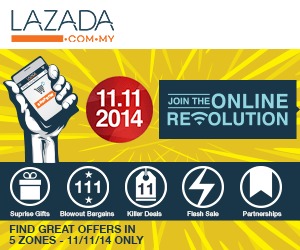 ONLINE REVOLUTION: LAUNCHES WITH A BANG ON 11 NOVEMBER
Visit Lazada (
www.lazada.com.my
) on 11 November as the Online Revolution launches with a day of mega sales. There will be a flash sale every hour from 11am to 11pm, with discounts up to 82% off the hourly promoted product.
Adding to the excitement above, Lazada will be giving away 3 pairs of Air Asia flight tickets to the top 3 spenders on 11 November. Lucky winners may choose to fly to Koh Samui, Bandung, or Cambodia for free.
ONLINE REVOLUTION: LAZADA'S DAILY OFFERS
With unbeatable daily deals continuing on 12 November to 11 December and the ultimate effortless shopping experience, there is no better place to be than online at Lazada Malaysia.
MasterCard Monday
– Enjoy 10% off when you pay with a MasterCard
Trendy Tuesday –
Find great bargains on the hottest items in Fashion, Home & Living and Watches
WOW Wednesday
- Go crazy with up to 70% off a best seller item when you purchase with Lazada's mobile app
Tech Thursday
– Get tech-savvy with this steal on our latest technology gadgets and innovations
Flashsale Friday
- It's fastest fingers first every Friday for timed deals and steals. Ready, get set, click!
Wireless Weekends
– Save money on-the-go with our mobile app exclusive sales on Cameras every weekend
Bargain hunters can also visit
Lamido, Lazada Group's C-to-C online marketplace, for other revolutionary deals.

Lamido is a buy and sell platform, empowering merchants and consumers with an easy way to conduct safe transactions.
ONLINE REVOLUTION: LAMIDO'S DAILY OFFERS
Visit
www.lamido.com.my
for more Online Revolution promotions from our sellers.
Daily Specials
– Enjoy the biggest 11

deals on 11 November, and thereafter 11 special daily deals until 22 November
Seller Promotions
– Check out the Lamido homepage for huge seller promotions such as free shipping, storewide discounts and more
Competitions
– Facebook fans can "like" daily deals and share it with friends to unlock a special item at the lowest price in the market. Consumers can participate in a treasure hunt on the site to find hidden treats in store.
Mobile App
– Discover more fabulous daily offers for our Lamido mobile app users